MAULTIER conversion Set
By Faustnik - jmqtv(at)iol.pt
Manufacturer: AL.BY (Kit #782)
Contents:
- 13 Parts moulded in yellow Resin of high Quality
- Packed in a sturdy transparent box.
- No decals, assemble instructions or painting information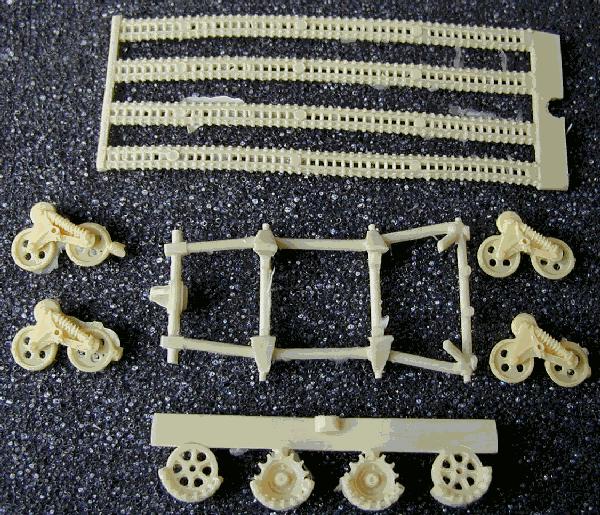 Evaluation:
As almost in all AL.BY items there were no air bubbles and no noticeable warping.
This item is intended to convert any ESCI Opel Blitz or a AL.BY 3 ton Truck to the Maultier configuration.
The problem is that while this is a Resin conversion, no information is available, to help the modeller to build the intended item, as you will need a lot of cutting in the donor kit. You should not forget that in the ESCI kit you have to cut the rear lower corner of the cab to adapt the track work.
Before you start this conversion look at a lot of photos, Scale Plans, and why not, in to a 1:35 kit, to have an idea how to do it.
The tracks are a problem in itself, as you will need to model them around the wheels and bogies. Two solutions: 1º - use a hair dryer, as source of hot air, to bend the tracks to the intend shape; 2º - Cut the tracks in smaller parts and glue them as they were link to link.
If you want a Maultier in 1:72, a lot of work and a headache, this is the kit for you. In the end it builds in a nice kit, and if you invest a lot in the ESCI offering, in the end you will have excellent model, if you manage to make it sit correctly. A note to some of us, this is not an adequate model to use in the tabletop (wargames), as the final model is very fragile…
---