HENSCHEL 3 T
By Faustnik - jmqtv(at)iol.pt
Conversion Set for ESCI/ERTL Opel Blitz
Manufacturer: AL.BY (Kit #736)
Contents:
- 5 Parts moulded in yellow Resin of high Quality
- Packed in a sturdy transparent box.
- No decals, assemble instructions or painting information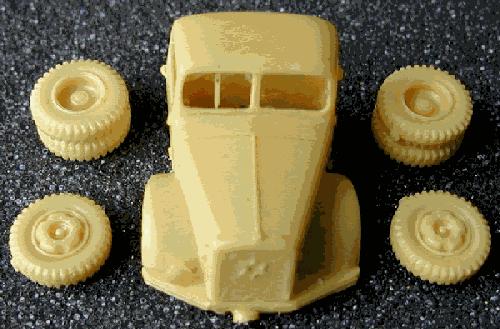 Evaluation:
Again like all AL.BY cabs, this is a Resin conversion and no information is available, to help the modeller to build the intended item, as some cutting is need in the donor kit, to adapt the cab. While Henschel trucks are common in the early days of W.W.II, this model is quite rare, as the only photo I have came from John MILSON book - German Military Transport of W.W.II, 1975, p.101. It seems that Henschel has produced a commercial 3-ton Truck similar to the Opel (Schell Programme?).
This is a old kit of AL.BY, easily perceptible from the casting quality, while good is not up to the AL.BY's current. Even so, this will build in a nice kit. As any resin kit, some cleaning of the parts is needed. In my specimen there were no air bubbles and no warping. The interior of the cab is, as always, crying for some detailing and/or a driver figure.
Recommended
---