DODGE T214-WC54 Ambulance
By Faustnik - jmqtv(at)iol.pt
Manufacturer: AL.BY Miniatures (Kit #722)
Contents:
- 12 Parts moulded in yellow Resin of high Quality
- Packed in a transparent box, typical of AL.BY offerings.
- No decals, Assembly instructions or painting information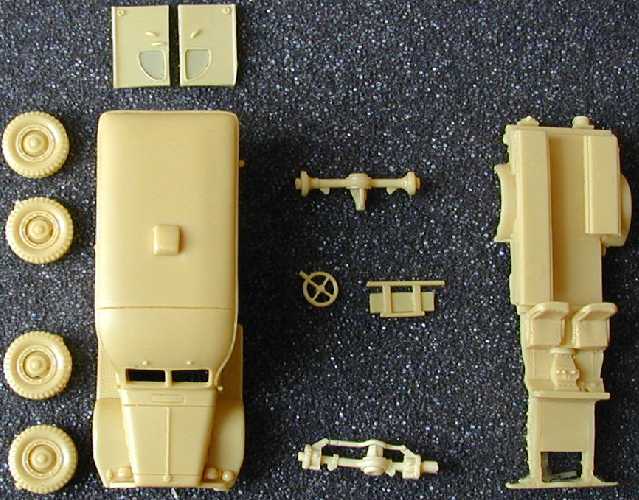 Evaluation:
High quality of castings and details, this is one of the best US item from AL.BY's "old" range. I must explain that the original intentions of Alain - the man behind AL.BY - was to convert, correct or fill the gaps in the ESCI/Hasegawa range, that is, when they produce new kits.
So this Kit is an improvement over the ESCI/ERTL Dodge Weapons Carrier, correcting most of the "faults" as the "high suspension" and so on while they try to offer items with few parts.
In this one you get the interior of the rear part of the van moulded in place, excellent parts detailing the suspension and so on.
As any resin kit, some cleaning of the parts is needed. In "mine" specimen shown there were no air bubbles and no warping of parts is visible.
Overall:
Well, if you don't know were to put this "baby" in your collection of Allied Vehicles you have a problem, as this is with Willys MB/Ford GPW one of the most used vehicle till the 60s.
As far as scale is concern, using the available data the overall dimensions are exactly at 1:72.
I will thank you to Filipe CUNHA, who lends his kit.
Highly Recommended
---