Citroen U 23 Armée 1939
By Faustnik.
Manufacturer: AL.BY Miniatures (Kit #827)
What you Get:
21 Parts moulded in yellow resin of good quality
Packed in a transparent box
A sheet with an assembly sketch
USEFUL References:
VANDERVEEN, Bart, 1989. Wheels & Tracks Historic Military Vehicles Directory, After the Battle Pub.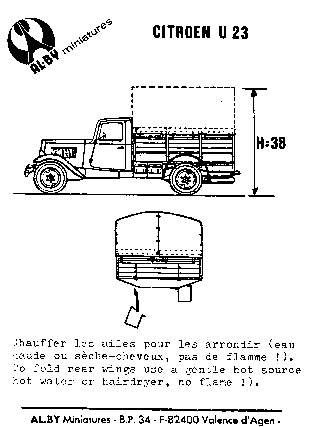 Evaluation:
This is an old model from AL.BY, even so this is an excellent model, and as always with crisp. In my specimen there were no air bubbles, and I only detected a little warping in the sides of the cargo compartment. This could be easily corrected with a hair dryer.
This vehicle presents 2 challenges, for any modeller, first the driving compartment must be beefed up, to represent the real thing and the rear mudguards, must be gently modelled around a round surface, using the hair dryer technique.
Personally, as I want to replicate a late version model, produced around 1943/44 by the Germans, I extended the chassis by 5 mm, using plastic card, but you could used it right from the box. In terms of users, it could be finish either in 1940 French livery, western desert colours (mostly polish and Free French) or European German.
As far as scale is concern, using the available data - at least the wheelbase - the overall dimensions are at 1:72.
Recommended
---