Steyr Truck 1500A
By Faustnik - jmqtv(at)iol.pt
Manufacturer: AL.BY Miniatures (Kit #853)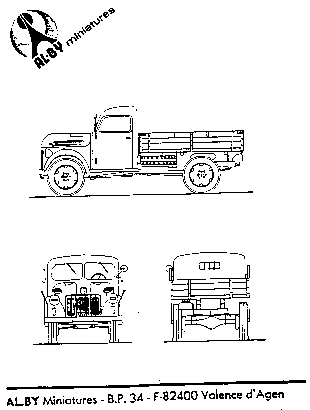 Contents:
20 Parts moulded in high quality resin
Packed in a transparent box.
A sheet with a 3 view plan
No decals or painting information
Evaluation:
Like the 1500 A/02 car, this is winner from this french manufacturer. Depicting the truck version built on the 1500A chassis (4x4) produced by Steyr. This small truck was used in almost all fronts and roles, from 1942 onwards.
Like its "twin brother" this model has some spectacular detail. Sharing a common chassis with the 1500A/02 model, they have the same advantages as the later kit.
As any resin kit, some cleaning of the parts is needed. The air bubbles, the common nightmare of any modeller, are absent in my model and almost no warping or distortion was visible.
As for references we have very few, as this version was very "photo shy", but they could be used in the transportation role, mechanics support. You could even build it as a AA vehicle, with the 2 cm FlaK 38, 3 cm FlaK 103/38 or the triple MG 151/20 Dreiling, all this with normal cab, Einheits, or even the cut down version of the later.
Overall:
As far as scale is concern, using the available data the overall dimensions are at 1:72.
Highly Recommended
---