STEYR 1500A Kfz 69/70
By Faustnik.
Manufacturer: AL.BY Miniatures (Kit #848)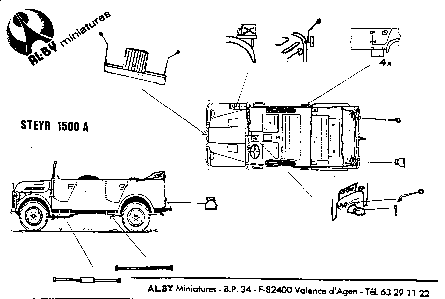 Contents:
29 Parts moulded in high quality resin
Packed in a transparent box.
A sheet of assembly instructions
No decals or painting information
Evaluation:
Excellent kit from this French manufacturer. Depicting the 1500 A/02 model produced by Steyr, in the sPkw series, this model will replace, from 1942 onwards, the Kfz 69/70 series produced mostly by the Horch firm.
This is a spectacular kit with some impressive detail, particularly in the passenger area, where the walls are almost translucent, as the resin walls are so thin.
AL.BY has simply produced a single chassis for their Steyr series, so this is identical to the Truck and ambulance version, where different bodies could be mounted, like the real thing. Perhaps this could means a "Kommandeur" version very soon…
As any resin kit, some cleaning of the parts is needed, visible in the photo. The air bubbles, a frequent nightmare in resin kits, are absent in my model, and only a slight warping, was visible in the passenger body, mostly due to the thin parts, corrected as they were glued in position.
As for references I would advise, as the most affordable source FRANK, Reinhard, German Personnel Cars in Wartime, from Schiffer Publications.
Overall:
Another winner from AL.BY, not only because the choice is excellent, with a lot of possible painting schemes. But also, because this vehicle could be used as Troop Carrier, towing unit, AA vehicle (with two MG 34 in the Infantry AA Mount or even an 2cm mounting from a Sd.Kfz.222 in Tunisia), and of course, as command car. As far as scale is concern, using the available data the overall dimensions are at 1:72.
Highly Recommended
---