7,5 cm IG 18 (pneumatic)
By Faustnik.
Manufacturer: AL.BY Miniatures (Kit #869)
Contents:
8 Parts moulded in high quality Resin
Packed in a transparent box.
A sheet of assembly instructions
No decals or painting information
Evaluation:
Another easy to build offering from AL.BY, this time depicting one of the most used weapons in WW2, with pneumatic wheels for motor towing (AL.BY also produces the Horse Drawn version), in the German Army, from the Reichswehr until 1945.
As any resin kit, some cleaning of the parts is needed, easily noticeable from the photo. In my specimen there were no air bubbles, and no warping of parts is visible.
In any case, it's an easy model to assemble and detail, using the available photos from several sources, as this was a very common weapon.
The only area open to improvement will be the shield, were a photo-etched version will be useful.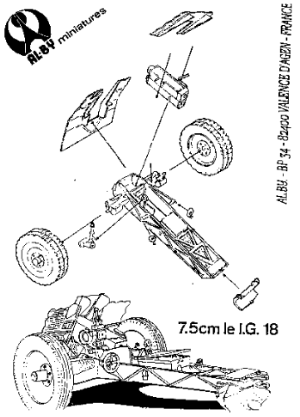 Overall:
A good model for any collection, either in a diorama (it just cries for a decent crew) or towed. As far as scale is concerned, using the available sources, it's at 1:72.
Highly Recommended
---