Camion Renault AHR
By Faustnik.
Manufacturer: AL.BY Miniatures (Kit #747)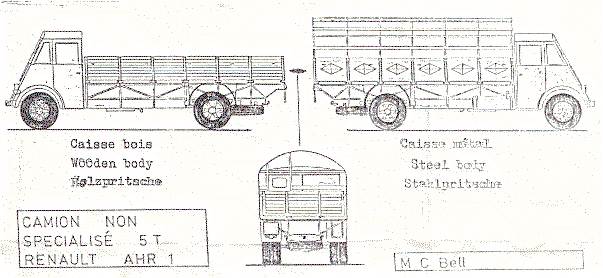 Contents:
- 9 Parts moulded in yellow Resin of good Quality
- Packed in a transparent box, typical of AL.BY offerings.
- A sheet with plans for the cargo box
- No decals, assembly instructions or painting information
Evaluation:
Good quality of castings and details, and as any resin kit, some cleaning of the parts is needed. In my specimen there were no air bubbles and few warping, easily corrected using hot water. The lack of assembly instructions is not important, as this item is very easy to assemble, with only a couple of parts to assemble.
The problem with this kit is that the interior is almost missing, so some info (perhaps in the French magazine - Charge Utile) will be useful. Don't forget that this is a COE (cab over engine) vehicle, so most of the controls will be in a very restricted area.
If this is a minor problem, the cargo bay is not, as this is totally missing. Of course that the instructions give some info about the two versions in use, in metal or wood, with dimensions, but anyway you need to build it, sort of scratchbuild. The wood version could be made using Evergreen© plastics sheets. I think that the wood cargo bay is of a latter period than the metal one, perhaps from late 43. Another part of the truck missing is the tarpaulin and their associated structure, nothing that some plastic strip couldn't do.
Background:
The approach of the war signs, in late 1939, forced the French industry in to producing some fast military vehicles, but the normal civilian versions were not really adapted for this logical, so Renault started working in some simplified versions of trucks for either military or civil use. This series consubstantiated in the AHS 2 ton cargo, AHN 3,5 ton cargo and AHR 5 ton cargo, were presented in early 1940, but the mass production was to late for the French campaign.
The Germans, always in need of transport, simply start producing these trucks from March of 1941, to equip their units in preparation for the East Campaign. The production ended in 1945, even after the German retreat, as from August of 1944 the production continues for the French population.
All Renault AH series have a similar cabin and design, so one could, with some work, build all of them, cutting here and there and using adequate size wheels. For this work I advise to use Geof LACEY scale plans F9 - AHN; F28 - AHR and F29- AHS, or search in Tankette/MAFVA magazine for M. C. Bell plans of the same vehicles.
The majority of the 44/45 production was equipped with a Renault or Imbert-Renault gazogene system. In this type of equipment, wood and charcoal will be burn to fuel the engine, a normal issue in civil use and the "home front", due to fuel shortage (just look at the French magazine Steel Masters 16, to see a similar version, on the 3,5 ton cargo AHN). Even military versions were equipped with that type of "fuel".
Overall:
As far as scale is concern, using the available data - at least the wheelbase - the overall dimensions are exactly at 1:72.
Another Truck, you say, but for me this is the reason of existence of all the "cottage industries" producing white metal and resin kits. This truck while incomplete is anyway a pleasing surprise, as I don't know another AHR in this scale.
Almost all of them were used in the Ostfront from 1941 till the end, with the rest issue to units refitting in France, and also some ended in civilian hands.
If you like trucks, but your league works in others colours you could use it as an captured example, for example the Soviets are always keen in the use of captured trucks…
Recommended
---