T-70 Light Tank
Manufacturer: AER (Kit No. 7226)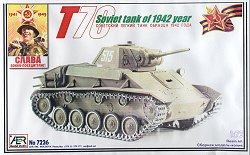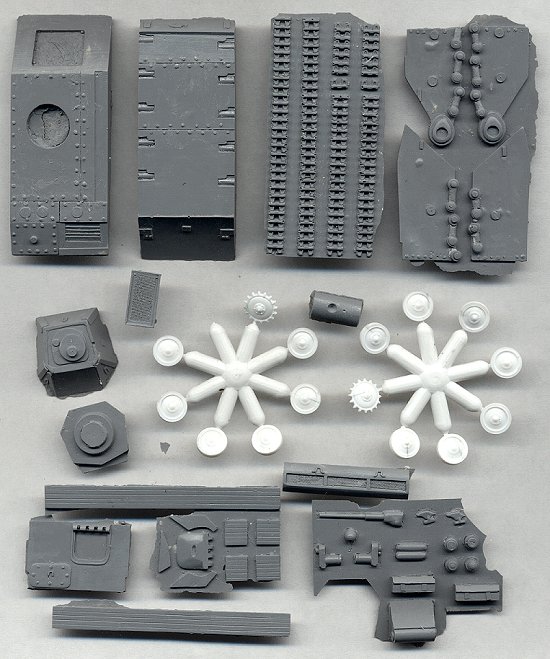 This is pretty much the best AER resin kit I have seen yet. It is a definite improvement over their earlier kits, with higher quality resin, better casting technique, and better master parts. As you can see in the scan, the wheels are actually molded in plastic, and they are very well done. I do not know why they did not mold the entire kit in plastic. There is some warping in the hull sides, behind the chassis, but that is pretty much the only molding defect I have seen. The turret hatch is molded shut, but the front driver's view-hatch is open. There is some thin flash blocking the openings in the upper hull; the hull is not molded solid. There are more track pieces included, which are not shown in the scan. They look like copies of ESCI's Pz. I tracks. The outer surfaces are pretty well-detailed, but the inner surfaces are smooth.
Note that the model depicted on the box top is NOT the model included in the kit. I believe it is actually of a 1/35th scale model, which is unfortunate. The reason I bought the kit was because of the very fine-looking model on the box. The tracks, in particular, are not nearly as good as depicted in the photo. Personally, I find this practice of picturing better models on the box top to be deceptive and unethical. Apparently, some European countries do not have the same type of "false advertising" laws as does America.
Despite the deceptive marketing of this kit (which AER has done on other kits as well), it should build into a fairly decent model. Based on previous experience, I imagine that the Al.By T-70 is much nicer, but I have not yet seen that kit.
The instructions are adequate to do the job. The decals are the same as AER's BM-13 Katyusha kits.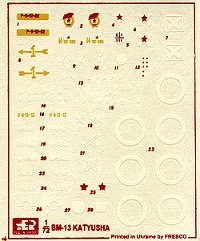 ---