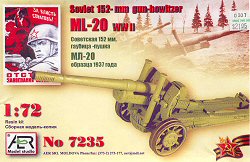 A nice model kit and a considerable improvement over AER's initial resin model kits, such as their Komintern Artillery Tractor and ZIS-16S Ambulance that I own. The kit is still molded in what I call a "pancake" though detail is sharper and with fewer defects.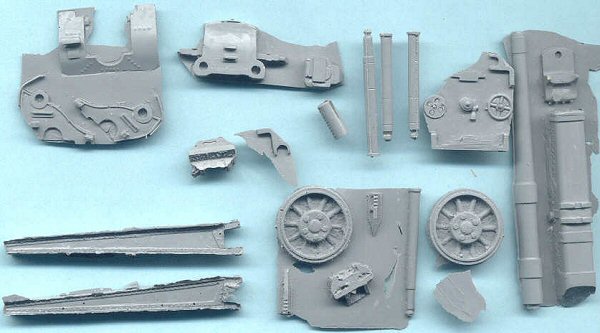 There are 25 gray-green resin parts similar to the resin that LEVA Productions uses. I noted a few very small air bubbles in a few parts. Instructions are a five part, exploded view that appear clear and complete. No decal markings are included though I have seen one photo of one of these guns with a Russian-language slogan on the barrel. This is a very important piece of artillery for the WW2 era Soviet Army and compares in use to the German sFH 18 15cm field howitzer. In modified form, this is the weapon mounted in the Soviet SU-152 and ISU-152 self-propelled assault guns. With what I know of Soviet WW2 colors, when completed it could be in colors ranging from forest-green to light-olive to a brown-olive. It was used by the USSR and Germany and its allies on the Eastern Front. I also believe it served with the North Koreans and Warsaw Pact in the 1950's.
I recommend this kit.