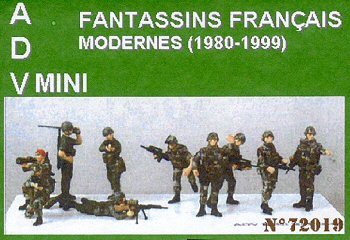 This is a fairly old set, and I acquired it through a trade last year. I am just now getting around to posting scans of it, because I wanted to get confirmation on some of the weapon ID's from a friend of mine who is a former sniper (thanks Chuck).
Some of the poses may look familiar to some people, as they have been heavily modified from old ESCI figures. Body armor has been added, as well as kit appropriate to French forces in the 1980s-90s. The primary weapon in evidence is the FA MAS assault rifle, and although the barrels have been snapped off of several of them, they will be quite simple to repair. The sniper rifle, which unfortunatly is not easy to see in these scans, I believe is an FR F2 French-made sniper rifle, and the anti-tank rocket looks a lot like an M136 AT4 LAW.
The figures are all excellently sculpted and molded. The few snapped barrels are easy to fix, and I see no air bubbles or other blemishes in the resin. ADV Mini markets only French vehicles, and these figures are an excellent accompaniment to them.