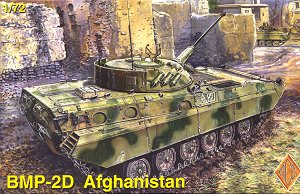 ACE has been releasing several new kits each year for the past couple of years. They have all been of [former] Warsaw Pact and modern Russian vehicles, which is definitely a good thing, since kits of such vehicles have been lacking in the small scale community. This is one of their latest releases, and represents the version of the BMP-2 which saw action in Afghanistan. The distinguishing characters of this version is the addition of applique armor to the turret and side skirts.
ACE kits are limited-run. This means that the molding quality is not going to be to the same standards as with the large plastic model companies. There is plenty of flash, and some of the parts will need to be carefully sanded to fit with the others. However, unlike some other limited-run kits I have seen, the high quality of the master parts for the ACE kits is readily apparent. The detail on the plastic parts is abundant, and for the most part, fairly sharp, although some parts seem a little soft.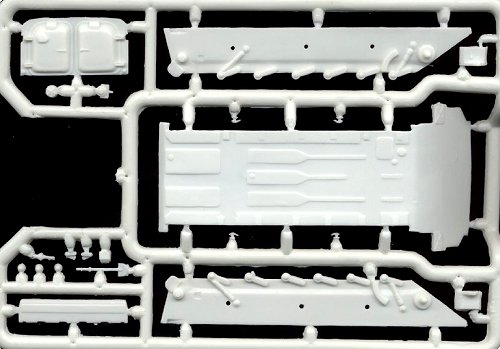 Most of the ACE kits are simply variants of the basic BMP body plan, so many of the kit parts are the same from kit to kit. This is a benefit to ACE, because it keeps the cost of releasing new kits to a minimum. However, it seems obvious to me that some of the molds may be getting a little old (specifically, the wheel and tracks sprue), because the molding quality seems to be degrading with every new kit. The earliest BMP kits seem to have the sharpest moldings, with less flash.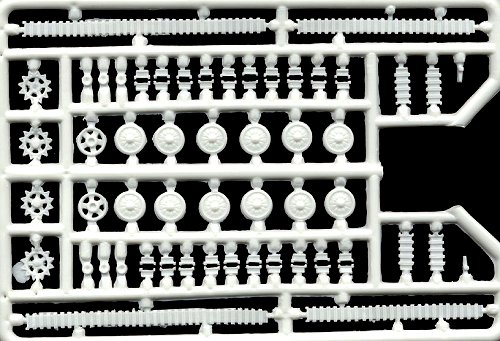 I know that I have criticized some limited-run kits in the past, but this line of kits pleases me greatly. Considering what you get in the box, I feel that the model cost is very reasonable.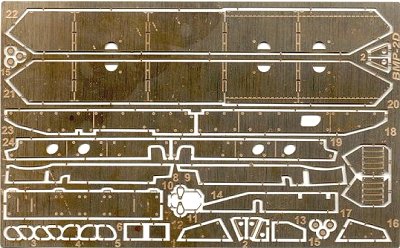 This particular release includes a fret of photoetched brass, which includes some smaller hull details, the headlight guards, and the applique armor. ACE has three kits currently available of the BMP-2: this currently reviewed kit; the basic BMP-2 kit (72112), which is the same as this kit, but with no photoetched parts, and the BMP-2 Late Version (72135), which again, is identical to this kit, but with a smaller fret of photoetched parts. So if you are looking to buy just a simple BMP-2 kit, I recommend buying either this one, or the BMP-2 Late Version (which is a couple of dollars cheaper), so you get the brass details. You may not need the add-on armor, but the other brass parts will improve the final model considerably.

Markings are included for four different vehicles, all in Afghanistan. The decals are very thin and very well printed.