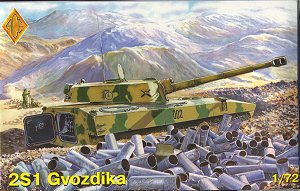 This is the first (and only) 2S1 Gvozdika available in plastic, and it is an excellent kit. ACE's kits are getting better with each new release. The detail is getting more abundant, and being molded much more sharply, and as always, the accuracy is very good. It is a limited-run kit, but the molding quality is really quite good. There are no sinkmarks in this kit, and very little flash.

The lower hull and chassis are very similar to their MT-LB kit, but lengthened by a seventh wheel station. Again, very nicely detailed.

The hull and turret details are the best I have seen in any of their kits. My only complaint is the closed hatches. The opening on the turret roof is not actually an open hatch, but rather is the socket allowing for a rotating commander's cupola. The commander's hatch within the cupola is molded shut.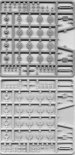 The wheels and tracks are also the same as in the the MT-LB kit, which is not surprising because this vehicle is based upon a modified MT-LB chassis. They are all very well done. The tracks have very good detail on the outside, but the insides lack the the distinction between individual links. But with the excellent track guide teeth, it will likely not be too noticable on the completed kit. (For the wheel and track scans, two sprues are pictured to show both sides, but only one sprue is included with each kit.)

One of the best parts of this kit is the inclusion of the fret of etched brass. There are some model parts which can best be represented only with brass, such as the fenders and headlight guards. ACE is one of the few manufacturers of plastic kits who regularly includes etched brass parts with their kits, and they should be commended for it.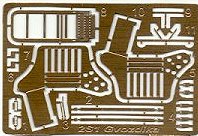 Markings are included for seven vehicles of four nationalities. As usual, the decals are very thin, matte, and very sharply printed (although the Finnish roundels are slightly out of register).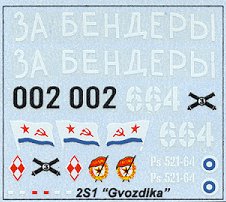 I have compared this kit to the scale drawings of the 2S1 within the Russian book, Bronekollektsiya #4/2000 - Soviet Armor 1945-1995, and confirmed it with Jane's Tanks and Combat Vehicles Recognition Guide, and this kit scales out exactly to 1/72d.
As compared to the resin ARMO 2S1 kit, I would recommend this plastic kit by a narrow margin. Although both are excellent kits, the ARMO kit has a couple of minor errors which this ACE kit does not have. With the inclusion of the etched brass parts, decals and decent instructions, this is certainly a more complete model.
THANK YOU to Alexey and Mike at ACE Models for providing the review sample.