It's great to finally see the V-100 family as injection-moulded kits, particularly as part of the new 'digital design' series from Ace. The kit includes 5 sprues of light grey injection moulded parts, four black vinyl or rubber tires, an etched fret, and a film sheet. Moulding quality in my sample is generally good, though sprue C, containing many of the smaller parts, suffers from mould shift.

Separate hatches for the driver/co-driver and the turret are included. The main side and rear Dutch-door hatches are moulded shut, as is the rectangular hatch at the rear of the upper hull. All the vision ports are moulded solid, but the exterior sections are designed as a sandwich of a film section and a photo-etched frame. A partial interior is included, with seats for the driver and co-driver, a steering column, and gear shift levers. The main hull side hatches have interior detail moulded on. Generally, the kit gives a decent basis for those wishing to include a detailed interior.

The suspension and drive train is well detailed. Having built the Extratech kit, I was pleased to see that Ace didn't forget the pioneer tool rack, jerry can and rear towing hook, as well as correctly locating the split in the hull side and rear doors.

The kit provides loads of options, without much explanation of which parts are appropriate for either markings choice. Specifically, the kit includes:
Multiple turret machine gun options - 2 x 30-cal M1919/M37 with flash hiders, 2 x 7.62 mm M60, or one of either plus one 50-cal. In addition, there are options for a roof-mounted 50-cal and a rear hull M60 pintle mount. The dual 30-cal configuration was typical in Vietnam, although this was often supplemented by externally mounted 50-cals or M60s.
Choice of rectangular, round or raised cupola on rear hull roof hatch. As far as I know, only the rectangular hatch was fitted to Vietnam-era Commandos (roof part D16/assembly F)
Choice of side opening hinged or swinging driver/co-driver hatches. The hinged hatches (parts A26/A27) represent the mid-production configuration, typical for Vietnam.
Choice of single flat, dual angled or large single wire protected vision blocks in front of driver. The version with single flat vision block (B03) is correct for Vietnam.
Choice of rear hull engine exhaust surrounds. Part D08 appears most correct for Vietnam, although the raised surround was not always fitted to early vehicles.
Choice of smoke discharger styles. Omit these for a Vietnam-era vehicle.
Choice of metal or plastic jerry cans on rear hull. The single metal can (D15) is correct for Vietnam.
Choice of rear taillight styles. I don't believe either option is correct for a Vietnam-era vehicle, which should have the WWII style US taillights/blackout lights.
Not specifically noted as an option, the kit provides ballistic fuel tank caps (C12/C17). These are a post-Vietnam feature. Vietnam-era vehicles had a simple flat disc fuel cap with a grab handle.

A spot light to mount above the guns in the turret is provided (D22/E06)

The kit is a good basis for modelling a mid-production XM706 in Vietnam, or a later version. Early production vehicles, as supplied to the ARVN as well as some early US Army vehicles, had a number of differences that are not provided as options in the kit, namely:
Two vision blocks and firing ports on each side of the hull in front of the side door
Flat hatches for the driver and co-driver
Both of these could be fairly easily added to the kit. In addition, the earliest production vehicles had squared-off wheel wells, the pioneer tool rack was relocated to the rear of the left side of the hull, and the raised anti-Molotov cocktail shield on the engine air intake (part A18) was not present.

The kit provides 2 choices of markings (unfortunately, the white markings on a white background are invisible on my scan, so I didn't add a scan of the decals to my preview):
"Budweiser", B Company, 720th Military Police Battalion, 89th MP Group, 18th MP Brigade, South Vietnam May 1971 in overall olive drab with silver wheel hubs. The A45 bumper code indicates this vehicle was actually with A company, though it was later reassigned to B company and later to C company as C57. Photos at reference 1 show Budweiser to carry two 30-cal guns in the turret, no 50-cal on the turret roof, and apparently a shield from a M113 ACAV 50-cal mount at the rear of the hull. This vehicle also carries an extra-large siren in place of kit part C08.
"Catch 22", A Company, 504th Military Police Battalion, 16th MP Brigade, Phu Bai, South Vietnam 1971 in overall OD. A photo of Catch 22 also shows twin 30-cal guns in the turret, and also a roof-mounted 50-cal, and pintle mounts without shields at both the front right and rear of the hull. This vehicle had the wheel lug nuts and edges of the rims picked out in a light colour (white or yellow).
Commandos operated by the US in Vietnam carried a huge variety of markings, including vehicle names, superhero and cartoon characters, as well as beer brands. I believe I still have some decals left over from the Extratech kit to provide even more options. I look forwards to Ace offering more versions, such as the turretless XM706E2 operated by the USAF in Vietnam! Well done, Ace!

References

[1] 720th Military Police Battalion Reunion Association
[2] Cadillac Gage V-100 Commando 1960-71, Osprey New Vanguard 52
[3] Cadillac Gage V-100 Commando Walk Around, Squadron Signal


Preview sample purchased by the author.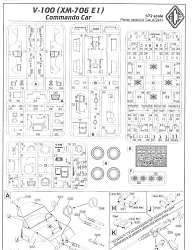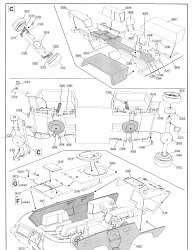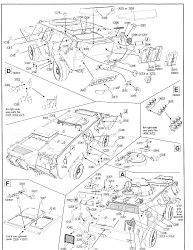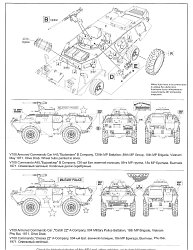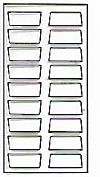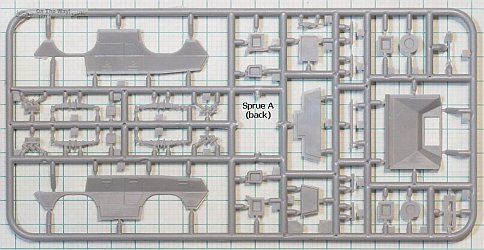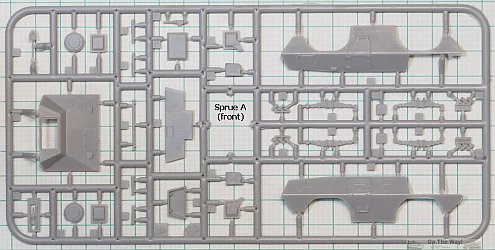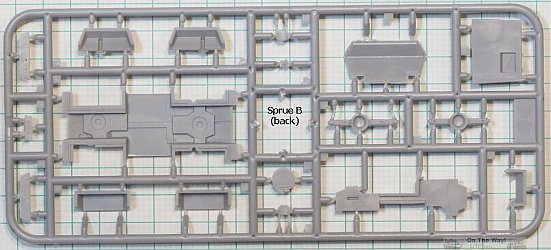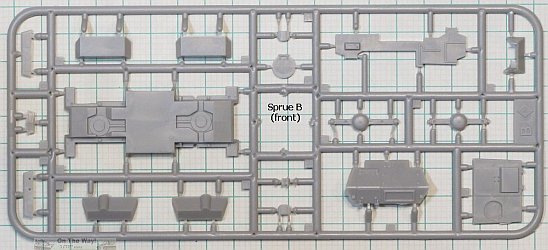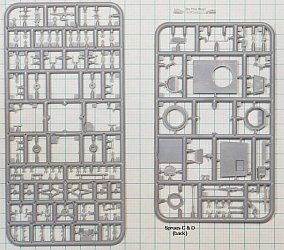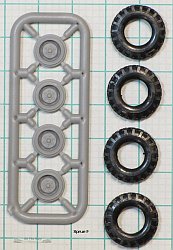 Ace products are available at