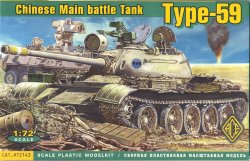 Yet another kit from ACE's excellent series of T-55 tanks. The Chinese Type 59 was based on the Soviet T-54. It was exported from China to a number of countries including Iraq, an example of which is depicted in the superb box art.
This kit is similar to ACE's T-54 kit, which I have not yet reviewed. The sprue of parts to the right (above) is also included in the T-54 kit, and contains the appropriate gun barrel, new hatch for the loader, an AA machinegun, and other appropriate details. This kit is not identical to the T-54 kit, as the T-54 kit also includes one additional sprue of unique parts that are not included here (a laser range-finder, I believe).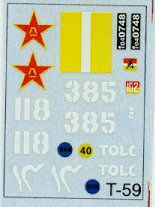 Markings are included for four vehicles: one Chinese (1980's), one Pakistani (1983), one North Vietnamese (1970?), and one Iraqi (1991).
Thank you very much to Stephen Brezinski for providing the review sample.