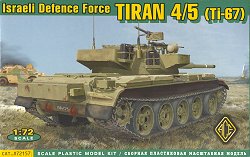 Although I have often seen this tank called a Ti-67, I have read in several sources that this was never a designation used by the IDF. This was apparently a name given to the tank by foreign correspondents when describing the vehicle (Tank, Israeli - 1967). The names Tiran 4 or Tiran 5 are correct, the difference between the two being that the Tiran 4 was a converted T-54, and the Tiran 5 was a converted T-55.
Like ACE's other T-55 kits, this one includes the same basic T-55 kit as before, with a sprue of parts unique to this version (last sprue on right, above). These new parts include a new cannon, hull and turret storage bins, machineguns, and various stowage items. This is a very high-quality, limited-run kit.
Tiran markings were fairly plain, and ACE has given us options for four tanks: two Tiran 4s, and two Tiran 5s.
Thank you as always to Stephen Brezinski for providing the review sample.