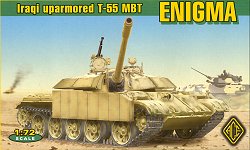 This is another kit from ACE's excellent series of T-55 tanks. The Enigma was an uparmored version of the T-55 created by the Iraqis with stand-off armor protection.
Like the T-55A kit, this one includes the same basic T-55 kit as before, with a couple sprues of parts unique to this version. These new parts include the add-on armor pieces, as well as new turret details and an AA machinegun.
No markings are included with the kit, as these vehicles apparently carried none. A painting guide is included for two identical vehicles, one from the first Gulf War, one from the second. Go to the ACE website for links to detail photographs of this vehicle.
Thank you to ACE Models for providing the review sample.