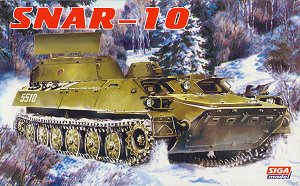 When I looked at the ACE kit list to check the kit number of this item, I realized I didn't even have it listed! Sorry about that, ACE. This is a SIGA boxing of the ACE SNAR-10 radar vehicle. The two kits are identical, except for the instructions, decals, and the ACE kit includes a small fret of photetched details that SIGA has left out of their version, but markets separately.
Most of the parts are the same as those included with the ACE MT-LB kit, since this vehicle was based upon that chassis. The following sprues are the same as included with the earlier kit. Note that the wheel and track scans show two sprues each (front and Back), but only one each is included in the kit.
The following sprue contains the new items for this version:

The follwing decals are from the SIGA version of this kit. The ACE boxing has slightly different markings.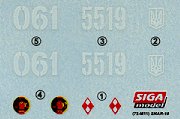 And finally, here are the brass parts. These are included as part of the ACE kit, but for the SIGA kit, you'll have to buy them separately.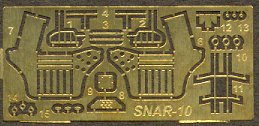 This is a nice kit, continuing on with the ACE trend of providing very nicely done limited-run kits that are highly accurate, and of interesting subjects.
My sincere thanks once again to Chris Kowall for the providing the review item.