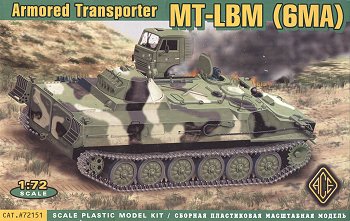 Based on ACE's earlier MT-LB armored tractor kit, this model represents an up-gunned version of the standard MT-LB. The majority of the kit is the same as the earlier model:
The wheels and tracks are very well made, and the entire kit is very highly detailed. The following sprue is unique to this kit, and these new parts are also quite detailed:
A small fret of photoetched brass parts is also included: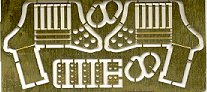 No decals are included, but painting diagrams are shown for two vehicles of the Russian Army in 2002.
I have compared this kit to the scale drawings of the MT-LB within the Russian book, Bronekollektsiya #4/2000 - Soviet Armor 1945-1995, and checked it with Jane's Tanks and Combat Vehicles Recognition Guide, and this kit appears to scale out exactly to 1/72nd.
My sincere thanks to Chris Kowall for the providing the review item.