Based on the same Pirahna chassis as the LAV only this time with six wheels instead of 8, The 6 wheeled version was in service before the LAV in the Canadian Army. It was employed in 3 versions the APC, the FSV and the repair version. This is the Fire Support Version mounting the complete turret of the British Scorpion tank mounting the 76mm gun.
The Hull has the same breakdown as the LAV series only shorter for obvious reasons ! the hull is nicely detailed with the drivers hatch open in four pieces with the troop compartment roof being specific to each version, The other sprue contains all the hull fittings including the exhaust.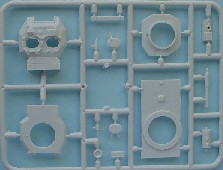 The turret is the same as the Scorpion tank which gives rise to hopes that we will see one in 1/72nd in the future. The roof hatches are open, It is very nicely detailed and correct in shape.
The suspension is the same as used on the 8 wheeled LAV, although only 6 are needed. The wheels can be made to rotate, also the front two wheels can also be made to turn or at least posed with the wheels turned without any problems or messing.
The kit contains the same rubber tyres as the LAV, these are very nicely detailed
Markings are provided for 5 vehicles all Canadian, 2 white UN vehicles, 1 SFOR and Canadian based one in green the other green and black.
This is a very nice kit of an unusual vehiclewhich was typically released after I tried to convert the 8 wheeled LAV! The kit scales out well to 1/72nd according to the references and drawings I have.
References
Janes Armour and Artillery 1990-1991 11th edition by Christopher Foss.
Jane's Tanks and Combat Vehicles Recognition guide Second Edition by Christopher F Foss