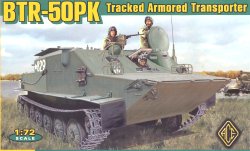 This vehicle was based on the PT-76 chassis, and likewise, the model is based on ACE's previous PT-76 model. The following sprues are the same as the earlier kit:
The following sprue is unique to this kit:

This model again is typical of ACE. The detail is great, and the vehicle commander's hatch is molded open. Like the PT-76, this will build into a great model. Once again, I would have like to have seen some etched detail parts included. Initial measurements of the unbuilt model show it to be completely accurate to 1/72nd (according to Bronekollektsiya #3.2000).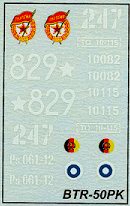 As always, ACE has given us numerous marking options: Soviet Army (1974), Soviet Army (1960's), North Vietnamese Army (1972), Yugoslav Army (early-80's), Slovenian Army (mid-90's), Finnish Army (mid-70's), and East German Army (mid-70's).
THANK YOU once again to Alexey at ACE Models for providing the review sample.