Over the years, ACE has been providing the modeling community with kits of unusual vehicles, likely never to be released by mainstream manufacturers. They continue this trend with this relatively new variant of the BMP-1 APC. The Shkval (Squall) is a Ukrainian version designed for AA defense and urban operations. This kit is based on the older ACE BMP-1, which I just now realised that I have yet to review, so hopefully I'll post a review of that other kit soon as well.
The following sprues are common to all new releases of the BMP-1 variants: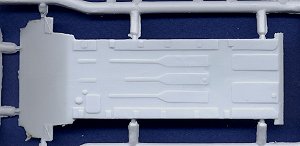 As molds wear out and need replacing, ACE often times takes the opportunity to make improvements to the masters and the new molds. Such is the case with this BMP. Those of you who have older versions of the BMP-1 will notice a couple of differences with this kit, most obvious being the new turret and hull that comes with open crew hatches. Since this Shkval also has a newly designed turret of its own, the revised BMP turret is not needed for this kit, and will make a nice addition to my spares box, perhaps to upgrade one of my earlier BMP kits. (The new sprues are now included with all new production runs of the various ACE BMP-1 kits.)
The following sprue is unique to the Shkval kit:

Most of the parts are well molded with only a small amount of flash, and a couple of minor sinkholes. The real trick to this kit, however, will be making the main gun look reasonable. The piece included in the kit is not bad, and is probably the best possible with molded plastic, but it would be nice to find a way to improve on it. Perhaps a photoetched framework would have been possible to fold into shape around the gun barrel. I really don't know how easy it will be to scratchbuild this gun system, so it may be that the kit piece with a heavy wash may be the best option available to us. Time will tell.
No decals are included, as photos of the actual vehicle shows no markings. The instructions are typical of ACE, and pretty decent, though photos of the real turret (obtained at the ACE website) will be beneficial. I won't be able to measure the overall dimensions until the model is built, but based on measurements of some component parts of the base BMP-1 (such as turret, upper hull, etc.), it scales out perfectly to 1/72nd (according to Bronekollektsiya #3.2000).
My sincere thanks to Chris Kowall for the providing the review item.