A brief history

During the invasion of the Soviet Union in 1941, many guns were captured as the Germans advanced across Soviet territory. Among them was the dual purpose 76.2mm divisional gun M1936 (F-22). The Germans soon realized that this gun made an excellent anti-tank weapon and converted many of them by adding a muzzle brake from the 7.5cm Pak 40, reducing the height of the shield, replacing the Soviet sights with German sights and modifying the controls so that the gunner could adjust both elevation and traverse from the left side versus the split controls found on the original gun. Later examples were re-chambered to use 7.5cm Pak 40 ammunition.

The gun primarily saw action in North Africa and the Eastern front, where it was still in use at the time of Germany's surrender.

The kit

What you get in the box is a pair of sprues in injected light grey, semi-hard, styrene like plastic. There are no decals. There is a simple 4 page instruction sheet covering both sides of an A4 sized sheet of paper. As per usual the build sequence diagrams are cramped and somewhat confusing. There's no numbering sequence either so check everything over to make sense of where pieces go and in what order. The walkarounds in references [7] & [8] are particularly useful guides for parts placement. A painting guide resides on the instruction's backside, illustrating three options.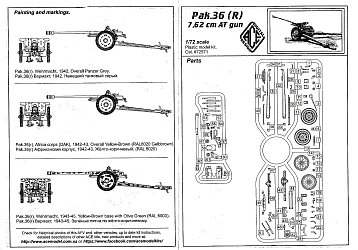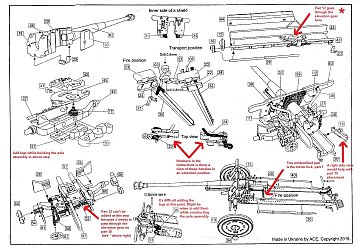 This is Ace's second iteration of this gun. Their earlier effort (kit no. 72233) is a limited run kit and really poor, while this kit (72571) has much better detail. I purchased this one almost immediately after it was released. I was expecting something on par with their recent and excellent MG Panzernest that I built awhile back (Read my review here), and more recent armour efforts such as their Centurions, many of which I've seen built and have heard nothing but praise for. (Read Will Alcott's Centurion review here). Unfortunately, what I got was a kit where mold shift was so significant and over so many pieces that I considered it un-buildable (refer to sample photos below). This was a big step back, not so much regarding detail, but with Ace's mold making ability and what I consider poor quality control that would allow something this obviously flawed to ship out the door.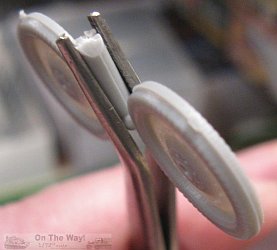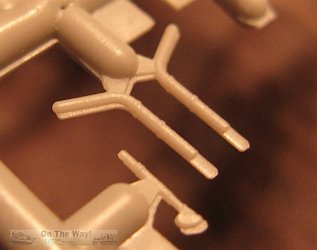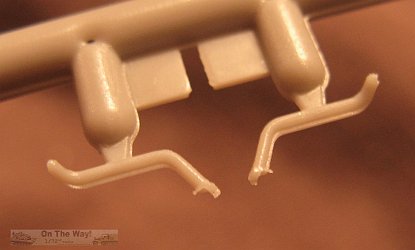 I contacted Alexey at Ace and he was kind enough to send a replacement which was substantially better, though still suffering from mold shift, albeit significantly reduced.

The build
In the end, my build became an amalgamation of the best parts from both kits plus a few changes, either because some parts weren't usable from either kit, or I desired a bit more detail, as follows:


Dymok72 metal barrel (DB72098 - 76.2mm F-22 gun barrel) makes a great improvement over the kit version, which by the time the shift is removed will no longer be round. I had to fiddle with the the slide for it to fit properly and sanded off the ring around the muzzle to allow a replacement muzzle brake from Dragon 7.5cm Pak40 kit to fit. I preferred the detail of the Dragon muzzle brake over that provided in the kit.
New wheels from the Zvezda 75mm Soviet Infantry gun (kit no. 6145) which have some tread detail sorely lacking from the kit's tires. I discarded the superfluous hub covers (part 4)
Filled a few sink marks in not nice nor easy to fix places
Changed shape of wings on the shield and thinned the shield's edges
Part 15 has a small nub to fit into a hole in the back of part 16, but that part doesn't have a hole. I removed the nub to get the parts to fit together
Replaced parts 28 & 52 with Evergreen plastic rod due to uncorrectable mold shift in both copies of the kit
Replaced control wheels (part 61 x 2) marred by mold shift and added their associated handles from plastic rod
The equilibrators (part 51) has two extensions that run out of its rear but the instructions provide no idea regarding what to do with them. References show they should be glued to the underside of the recoil slide. Also replaced the nuts on the equilibrator faces with discs punched from plastic sheet
Adding part 52 (control shaft that run across the backside of the mount) as indicated will prevent adding the barrel/slide assembly because this shaft needs to run through the opening in the elevation gear teeth attached on the underside of the recoil slide part 48 (not part 43 as indicated in the instructions)
The travel lock for the trail (part 7) just magically appears in the last step and isn't identified with a part number
Replaced the shovel with one taken from the spares box
Due to mold shift I used bent wire for trail handles. Instructions do not provide a part number (part 8) nor do they show how to fit them in their extended position
Location of parts vague at times, e.g. part 19. It would have been nice to have a view of the right side of the recoil slide to see where exactly this part fits.
To ease their installation, I added the boxes on the rear of the shield (parts 11 & 38) before the splinter shield braces
I strongly suggest adding part 59 (sliding protective panel) last on the shield so that it's mounted at the proper height for the barrel elevation
Instructions make no mention that part 20 should be added to both sides of the recoil slide
I found that following the instructions to building the multi-part carriage containing the axles causes fit problems when adding the legs later. It might be best to build he legs first, then add them part way through the construction sequence
Conclusion

What should have been the ultimate plastic model of this important gun turned out to be a frustrating build due to poor molding. You can see promise of better detail when inspecting the parts, unfortunately the less than stellar molding and vague instructions made this kit more of a trial to build than it should have been.
References

[1] German Anti-Tank Guns 1939-1945, T.J.Gander, Almark Publications, New Malden, England 1973 ISBN: 0 85524 142 X
[2] WW2 Fact Files: Anti-Tank Weapons, Peter Chamberlain & Tony Gander, MacDonald & Janes, 1974 ISBN: 0 35608 065 X
[3] Antitank Artillery of the Wehrmacht 1939-45, Maxim Kolomiets, MK Strategy, Moscow, Russia 2006 ISBN: 5-901266-01-3
[4] Wydawnictwo Militaria 258: Panzerabwehr Artillerie, Maxim Kolomiets, Wydawnictwo Militaria, 2006 ISBN: 83-7219-258-8
[5] Wydawnictwo Militaria 392: Panzerabwehr Artillerie, Maxim Kolomiets, Wydawnictwo Militaria, 2013 ISBN: 9788372193926 (a slightly modified reprint of [5])
[6] wikipedia
[7] Toadman's Tank Pictures (walkaround #1)
[8] Toadman's Tank Pictures (walkaround #2)
[9] Axishistory.com (forum thread)

Review sample purchased by the author.
Ace products are available at