T-80BV
Revell AG. kit by Sam Law.
Major Modification:
The hatches of the gunner, commander and the driver are flexible. Hinges are made with wires.
The reactive armor on the turret front, on the gun top and on the deck front are scratchbulit as a whole piece, instead of individual brick (also more detail and longer in length and better fit to the turret and the deck front).
The lower row of the reactive bricks at the turret front should be outer than the upper row.
searchlight is added at the commander gun.
The arm for supporting the cylindical stowage is remade to be longer than origin so that a rectangle stowage is added between the rear turret and the cylindical stowage.
material is added at the rear turret to eliminate the rear undercut of the turret.
the commander shield is scratchbuilt.
Comment: It seems it is the downscale from the Dragon 1:35. The deck is too short. The rear deck should be much longer actually. The edge of the storage boxes at the rear deck is too sharp. The front slopped deck has a prominent rib at top which does not exist actually. The left side wheels should be a little bit behind the right side wheels. Actually, in 1993, I have hand-made a prototype of this T80. So some scratchbuilt parts are repulicated from my prototype.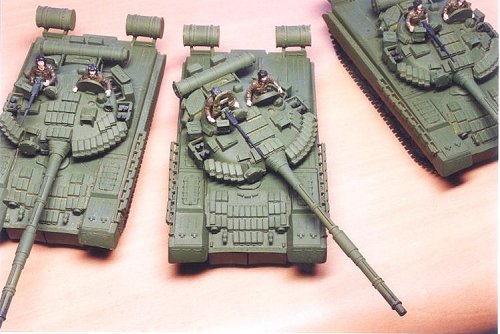 ---