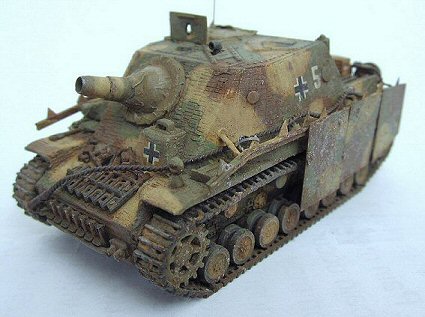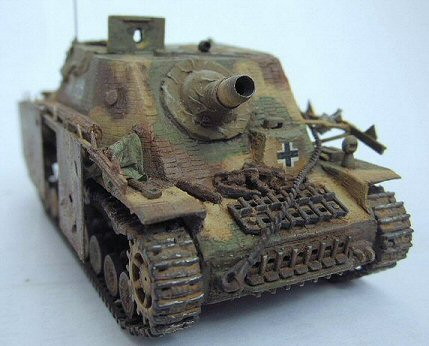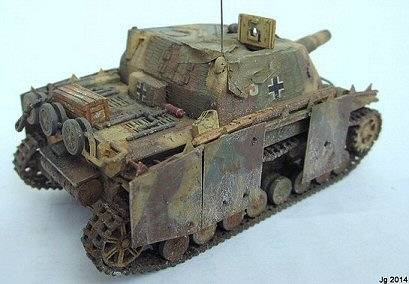 On The Way features new, exciting products and technology for our hobby yet there is still much enjoyment to be had from older kits if one is not a stickler for absolute accuracy. With that I submit Esci's Stürmpanzer Brummbär, for which I paid the princely sum of $5 at an outpost hobby shop in Fullerton, California in 1993. I built this model soon after and was proud of it because not only was it one of my very first Braille models, it featured my first Squadron green putty Zimmerit treatment, which, if nothing else, is not garishly overdone.
But, as the years passed, I became unhappy with my poor job of bow legged track alignment and the too brownish paint job of my first rendition so I decided to fix that. I took the tracks off, lost interest and aged the model a few more years. When inspiration struck, I repaired the tracks, and happy with that, that led to an overall "factory" refurbishment in 2013 that included fabricated Schürzen rails, teeth, and plates, a twisted copper wire tow cable, and a larger periscope. I then brush painted new colors using craft store acrylics, mixed and matched followed by a burnt umber oil wash. The hatch tarp and mantlet cover are tissue paper.
It was very enjoyable as I'd already done the bulk of the work so this was about correcting, adding details, and painting, my favorite parts of the process. Perhaps the best thing was reworking a model I shunned and transforming it into a new favorite in my collection.