Magach I
Manufacturer: Scratchbuilt Conversion
By Michael Hatch
Steven Hodge (photo guy and first opinion).
Kim Gervais (artist and wife).
A minor conversion of a ESCI M48 to a Israeli Magach 1 circa 1967. (I forget which M48 kit I used but it was the one that had the vision block riser under the commander's cupola.) I did the following
Filled in the road wheels and cut the track teeth grove into them.
Opened up and detailed the crew commander machine gun sub-turret.
Added a 1/76th white metal tank commander by MMS (from their US WWII set).
Painted it with Pactra Israeli Sand Grey. Hand painted the vehicles markings (mostly).
Grimed-up the engine compartment area with a black wash.
Weathered with pastel chalk dust.
Added vehicle and crew storage with resin, rolled tissue paper, and soft and hard plastic doodads.
Added two soft steel wire antennas.
Added a tow cable made out of thick thread dipped in Humbrol Steel and weathered with red water colour wash.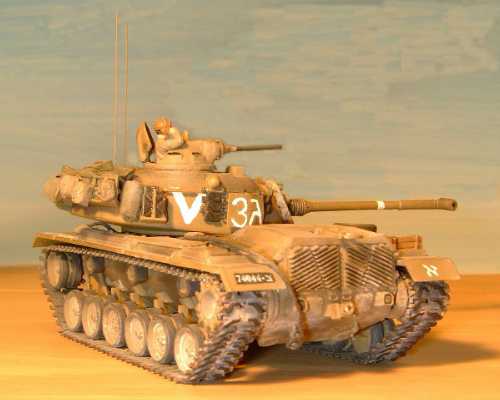 ---