Magach VI
Manufacturer: Scratchbuilt Conversion
By Michael Hatch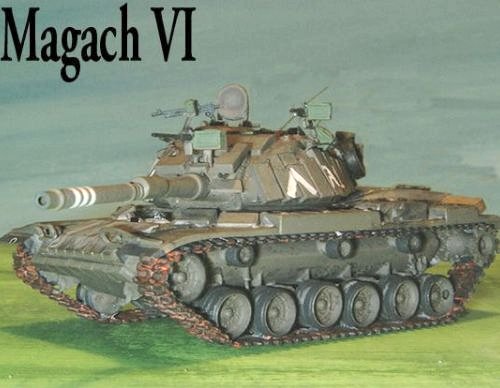 ESCI's M60 Blazer with the following minor modifications, including :
Filled in the road wheels and cut the track teeth groves into them.
Opened up and detailed the crew commander hatch.
Added additional episcopes to the driver's position and the loader's hatch.
Crammed tissue paper into the gap between the face of the turret and the mantlet.
Replaced the kit's plastic .30cal machine guns with white metal FN MAG GPMGs.
Replaced the kit's .50cal with a better one from ESCI's Merkava I and added a cocking handle to it.
Added an external 60 mm mortar from the Merkava I kit.
Drilled out the lifting eyelets on hull and turret.
Repositioned lifting eyelets on the turret.
Repositioned and added additional ERA blocks.
Added "towel rack" wires on either side of the turret.
Hand brush painted it a mix of Tamiya acrylic Khaki Drab (XF-51) and Flat White (XF-2) in a ratio of 2 to 1(ish).
Hand painted the vehicles markings (mostly).
Cut down two road wheel from the Merkava kit as spares.
Replace ammo cans on the MGs with resin ones and added ready ammo cans around the turret hatches.
Added external stowage comprising white metal, plastic, resin and rolled tissue doodads.
Added two soft steel wire antennas (which have been knocked about a lot).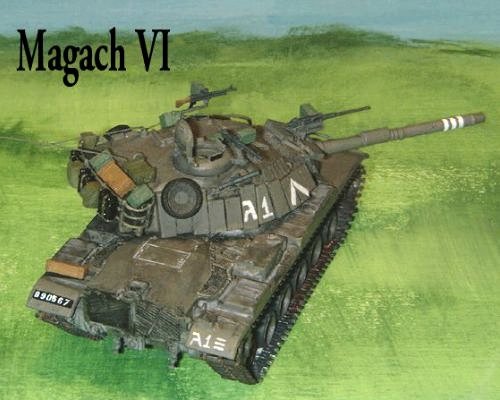 Started weathering with a water based black wash. It went on a little heavily, so I tried to tone it down by swishing around the areas with liberal amounts of rubbing alcohol. After the alcohol attacked the enamel paint, I decided that I might just have to kill myself. I then dry brushed over top of the affected areas with the base colour and in the interest of mental health decided that I could live with the results. I'm still going to use pastel chalks dust to give the lower hull area a even more dusty look.
When weathering tracks I use Humbrol Gunmetal as a base coat. I then apply a water based red/orangy wash. When dry I dust them up with pastel chalk dust and finish off with dry brushing with either bright steel or jet black enamel depend on if the vehicle has steel or rubber track pads.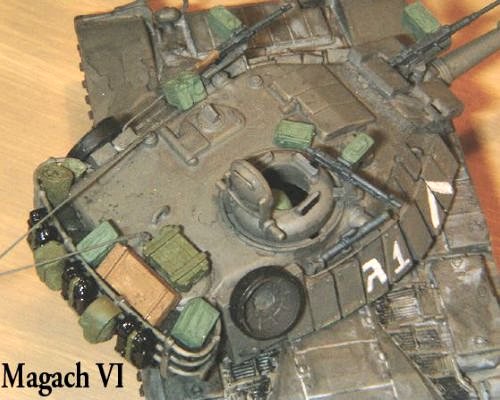 Lacking the proper figure and not happy with my attempts to modify a helicopter crewmen into the vehicle commander, I positioned him well down his 'hole' so that you can only just see the top of his helmet.
I still plan on adding two towing cables that are stowed piled up on the two front fenders. I will be using thread painted with Humbrol Gunmetal and weathering with water based red paint and pastel chalk dust.
References;
Concord's Tank Battles of the Mid-East Wars, Part 2.
Mouse House's Israeli Military Vehicles.
Squadron's M60 in action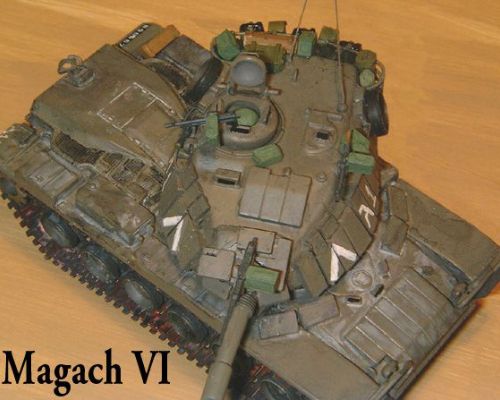 With thanks to;
Steven Hodge (photo guy and first opinion).
Kim Gervais (artist and wife).
Doug Chaltry (forum provider).
---