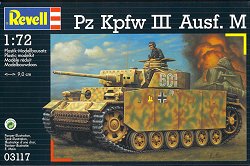 versus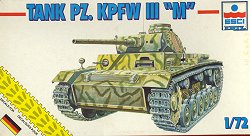 Manufacturers: Revell Germany and ESCI
The new Panzer III M released by Revell Germany is a real hit. I was very convinced of the kit's quality before even opening the box because it's based on totally new moulds and is not a re-release.
First impressions
After opening the box you get to see four plastic sprues in a light yellow tone just like the Panzer IV J's. The amount of parts is astounding, to clear all doubts this kit has nothing to do with the Matchbox Panzer III L (which was also released by Revell).
Revell: Sprue 1 Sprue 2 Sprue 3 Tracks Decals
The parts for the Schürzen and the special exhaust system are all on one sprue so I wonder if Revell is thinking about another version release just like they did on their excellent Panzer IV series. The tracks look great; they're far superior to ESCI's and seem to be identical to the Pz. IV tracks.
There is no flash to be removed, the molds are very crisp and detailed, and injection holes are hidden on the inner side of the kit.
You have two decal options: the first is for the 11th Pz. Reg. attached to 6th Pz.Div., Belgorod July '43, (this one has nice markings to be applied on the Schuerzen, I recommend this version) and 3rd Pz. Reg., attached to the 2nd Pz.Div. "Wien" also serving on eastern front near Khifzky in August '43. The second version only features the insignia of the Austrian Pz. Div. on both turret sides. The instructions are easy to follow and everyone knows what they look like (that grey stacked toilet-paper).
ESCI: Sprue 1 Sprue 2 Sprue 3 Tracks
Revell Typical Weaknesses
They never include figures or "extra" accessories like spare jerry cans, boxes etc. I don't want to complain, but this stuff is elementary to add realism and authenticy to your models. Without stowage your first model of a Pz III looks fine and you're content, but after a second one they seem to be lifeless and flat, especially when pioneer tools are being molded on the hull again and cannot be differed in their position. Revell only molded the jack and the towing cable seperately. So if you want to remove the pioneer stuff on the hull, be careful not to erase all of the antiskid surface.
ESCI molded at least shovel, axe and the jack seperatly but the towing cable embraces the engine hatches so closely that it's almost impossible to remove it.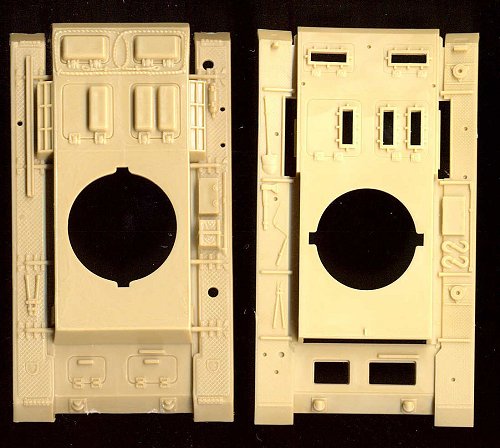 Unlike ESCI's kit, Revell's turret also misses the two pins on the back side of the turret, (left and right of the Rommel box); this error virtually disappears if you use the supplied turret skirts.
The worst thing I found about the Revell kit is that it doesn't have a short barreled 7,5 cm L/24 KwK. Maybe you can scratchbuild one or use the spare barrels you didn't use with your ESCI Pz III. They really should have included this option because the Pz III N with a 7,5 cm gun was also commonly used at eastern front and it would have been a nice option to the 5 cm L/60 longbarrel. The ESCI kit features at least three barrels: 7,5 cm L/24, 5 cm L/60 and 5cm L/42.
I conclude that ESCI often include more building options and misc. parts like crates and cans (look above) then Revell does.
A word about the instructions: it would've been better if they added a question mark to the skirt construction to indicate that sometimes the Schuerzen were left off or were lost in action. I've seen numerous pictures of Panzer III M carrying just turret Schuerzen or no skirts at all.
ESCI instructions are easier to handle and provide a photograph as reference; Revell does not (only of the finished model). It's small and B/W but better than nothing.
Revell's Strengths
As I mentioned earlier, the tracks are superb. I wonder if I should ever complete any of my models having ESCI tracks, I think I'm going to use Revell's tracks exclusively, even on the ESCI chassis. The problem is that the ESCI kits seem to look so flat when you look inside of the wheels. I mean they've been designed 20 years before Revell's, and were quite okay but I doubt them to be accurate for today's models.
Again: the Revell molds are more crisp and quite delicate compared to ESCI's old Panzer III. The barrel of the old Panzer III is even twice as thick as Revell's thus making the new Panzer III a better partner for Revell's Panzer IV H. Both manufacturers are not totally incompatible, but ESCI's kits always seem to look a bit overscale (or Revell's underscale?) and thick when being paired too close on a diorama.
Smoke dischargers and exhaust system are very detailed and better then on ESCI's kit. Dischargers on ESCI are molded on the turret which looks quite poor on the kit.
Revell's turret hatches are molded seperately; they can be easily cut into two. ESCI turret side hatches and the turret itself are molded together which makes it almost impossible to open the turret sides without erasing the doors.
I haven't tried the skirts yet, but I remember that constructing the ESCI skirts was truly an inconvenience. Neither of the sketches show the skirts having a small angle rather then hanging vertical on the hull. Revell's kit features nice mounting rails and the kit contains a mount for the antenna as well, just like ESCI.
The bogie wheels look very nice too, the six holes around the wheelarch are open while ESCI's are molded shut but ESCI wheels still can compete very well.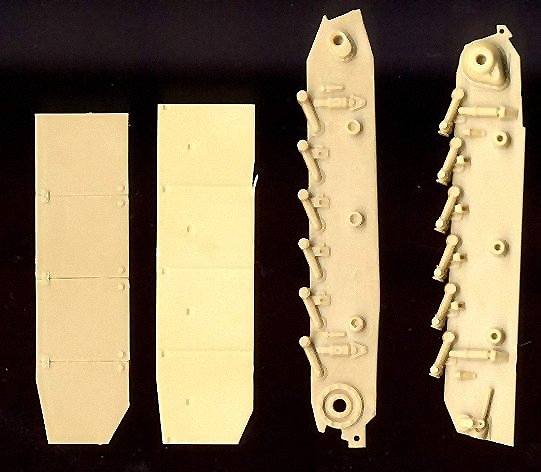 Recommendation
I think you're going to buy this kit anyway, the cons are marginal compared to the pros.
Pros
Hard plastic tracks- easy to assemble
Commanders cupola, drivers and radio op's hatches molded open
Very finely moulded anti-skid surface on the mudguards
Easy to convert
Cons
Turret sides are molded shut
Pioneer tools molded on the hull
Gun cannot be drilled-it's too small
DOES NOT CONTAIN A SHORT KwK 7,5cm LIKE THE ESCI KIT
No figures at all
No AA MG on the commander's cupola which is mentioned in the instructions
Instructions: they're easy to follow but printed on several sheets of recycled paper. Recycled paper is fine but the construction are stacked up so unwieldy, I don't like them.